Properties Magazine: CSU Student Center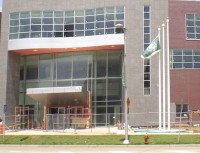 In August 2010, Properties Magazine chronicled construction of Julka Hall, housing the College of Education and Human Services and the School of Nursing at Cleveland State University. This facility was the latest in a long line of CSU facility improvements as the school continues to evolve.
The striking three-story Student Center was built at construction cost of $41.5 million. CSU assembled a roster to spearhead the new project, including Mid American Construction, a Prime Contractor for the project.
Read more at PropertiesMag.com